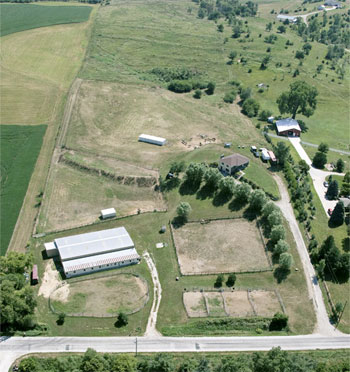 Welcome and thanks for visiting Circle "C" Ranch website. We are located 10 minutes east of Council Bluffs Iowa. We breed, raise, sell and show versatile performance horses, specializing in Reining.
We are always striving to create the best program possible, raising and providing horses which will flourish in the demanding, competitive performance arena, while also having our horses possess the dexterity to be put to use as reining, ranch, rope and/or everyday using horses and excel in a multitude of disciplines. Our bloodlines on our mares, foals , stallions, young prospects, and sale horses are all of high quality with proven pedigree's. We cannot stress enough the importance of the conformation and disposition combination we must have in all our horses, never overlooking this factor when purchasing, producing and/or selling. This is the basis to the foundation of our program, and qualities you will find in every horse that comes in and out of our operation. We devote much time meticulously comparing conformation traits, researching bloodlines and choosing the right stallion to cross on each individual mare, and thrive on producing outstanding performance prospects to provide to our clients.
While offering our foal crop for sale every year, we also provide training services to outside clients, and lessons from the beginner to advanced. We take great pride in every horse we own, sell and show and always look forward to meeting new people and making great friends.
We have horses for sale most of the time and would love to show you our mares, foals, young prospects and our stallions. Please feel free to call or drop in for a visit at any time.
We may be raising your next prospect!
"The Home of the Dunits"